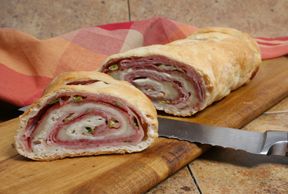 Directions
Unroll dough onto a greased baking sheet.
Place a layer of sliced ham on dough within a 1/2 inch of the edge.
Sprinkle evely with green onions and parmesan cheese.
Place a layer of thin sliced salami then sprinkle evenly with swiss cheese.
Roll up like a jelly roll starting on the long side.
Pinch the seam to seal and pinch the ends shut as well.
Roll so it is seam side down on the baking sheet.
With a knife, cut 8-10 1/4 inch deep slices across the top of the loaf approximately 1 inch long.
Bake at 350° for 25-30 minutes or until golden brown.
Cool slightly, serve warm.
Prep Time: 15 minutes
Cook Time: 30 minutes
Container: baking sheet
Servings: 6


Ingredients
-
1 (11 oz.) tube of refrigerated crusty french loaf dough
-
6 ounces thin sliced ham - approximately 8 slices
-
6 ounces salami - approximately 15 slices
-
4 green onions - finely diced
-
1/2 cup shredded parmesan cheese
-
1 1/2 cups shredded swiss cheese