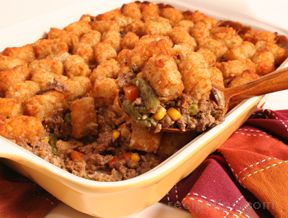 Directions
Preheat oven to 350ºF.
Brown ground beef in a heavy skillet; season to taste.
Drain excess grease.
Remove browned hamburger from skillet.
Add onion to skillet and sauté until soft and lightly browned.
In a large bowl combine ground beef, onions, soups, vegetables, and half of the bag of tater tots.
Place the mixture in a prepared baking dish and cover with the other half bag of tater tots.
Bake 1-1/2 hours.

Time Saving Tip: Using frozen vegetables that are packaged in microwavable bags will reduce the cooking time.
Prep Time: 15 minutes
Cook Time: 1.5 hours
Container: 9
Servings: 8
Serving Size: 2 cups


Ingredients
-
2 pounds lean ground beef
-
1 medium onion, diced
-
16 ounces frozen mixed vegetables, cooked according to package directions
-
10 3/4 ounces golden mushroom soup
-
10 3/4 ounces cream of celery soup
-
1 pound frozen tater tots, 1 bag divided