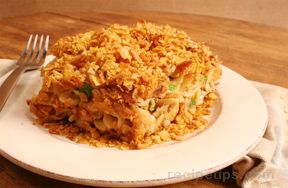 Directions
Coat casserole dish with butter or non-stick cooking spray.
Preheat oven to 350°F.
Combine prepared noodles, tuna, soups, onion rings, and peas in casserole dish.
In a separate bowl, mix melted butter with crushed corn flakes.
Sprinkle corn flakes over noodle mixture.
Bake uncovered for 30 to 35 minutes or until heated through.
Prep Time: 30 minutes
Cook Time: 30 minutes
Container: 9
Servings: 8
Serving Size: 2 cups


Ingredients
-
1 can tuna (12 oz.), drained
-
16 ounces egg noodles, cooked and drained
-
10 3/4 ounces cream of mushroom soup
-
10 3/4 ounces cream of celery soup
-
1 can dried french fried onion rings
-
peas
-
2 cups crushed corn flakes
-
2 tablespoons butter, melted