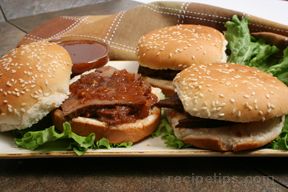 Directions
In a large bowl, combine the first 9 ingredients.
Pour half of the marinade in a resealable large plastic bag along with the roast.
Seal the bag and turn to coat, refrigerate overnight.
Cover and refrigerate the rest of the marinade.
Place the roast in a large roasting pan along with the extra marinade.
Cover and bake at 350° for 2 hours or until the meat is tender.
Let stand for 15 minutes before slicing.
Serve on buns.
Skim any fat from the pan juices and serve alongside of the sandwiches.
Prep Time: 15 minutes
Cook Time: 2 hours
Servings: 12


Ingredients
-
1 1/2 cups ketchup
-
1 medium onion - finely chopped
-
3/4 cup brown sugar
-
1/2 cup teriyaki marinade/sauce or soy sauce
-
1/4 cup white wine vinegar
-
1/4 cup vegetable oil
-
2 cloves garlic - minced
-
1/4 teaspoon ginger
-
2 dashes cayenne pepper
-
3 pounds arm roast or beef eye of round roast
-
12 sandwich buns, split - can be toasted