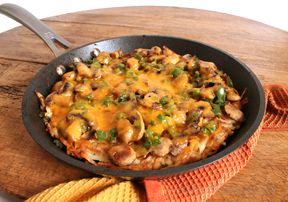 Directions
Chop vegetables into coarsely cut pieces of a desired size. Saute in 10 inch skillet until slightly softened. Season to taste with salt and pepper.
Crack egg into mixing bowl and beat until smooth.
Add frozen potatoes and mix egg into frozen potatoes. Season lightly with salt and pepper.
On stovetop, add 1 tablespoon of oil to a 10 inch non-stick skillet to be warmed on medium heat setting.
Add frozen potato mixture to a non-stick skillet, using a spatula to level the potatoes evenly across the pan. Since the potato mixture does not firm up after cooking only one side, the non-stick skillet will assist with the ease of turning the pizza over when the first side is finished cooking. Cover pan and cook for 6 to 8 minutes or until golden brown on bottom surface of potatoes. Remove cover and cook an additional 5 to 6 minutes.
Lightly coat flat baking sheet with oil or cooking spray.
Remove skillet from stovetop. Using protective mitts or hotpads, place a flat baking sheet over the skillet. Hold baking sheet against skillet and turn skillet over so pizza drops out of skillet onto baking sheet.
Remove bits of potato from skillet and place it back onto burner, adding remaining 1 tablespoon of oil.
Slide potato pizza off baking sheet and into skillet, allowing uncooked surface to begin cooking.
Sprinkle sauteed vegetables over top of potato pizza and cover with cheese.
Cook second side in covered skillet for 5 minutes, until golden brown and then cook uncovered for 3 to 4 minutes. When finished cooking, tilt skillet and allow potato pizza to slide out of skillet onto serving plate. Cut into 4 pie-shaped pieces and serve warm.
Note: Meat can be added to this recipe. Simply use ground meat such as sausage or pieces of pepperoni. Add 2/3 cup of meat to mixture when adding other ingredients. Retain 3 tablespoons for use to be sprinkled over surface when the remaining cheese is added.
Prep Time: 15 minutes
Cook Time: 15 minutes
Servings: 4
Serving Size: 1 slice


Ingredients
-
large egg
-
1/2 cup cheese - cheddar or any cheese of choice
-
green onions, sliced
-
3/4 cup fresh mushrooms, sliced - more if desired
-
1/2 cup green sweet peppers, diced
-
4 cups frozen hash brown potatoes
-
2 tablespoons extra-virgin olive oil
-
salt and pepper to taste