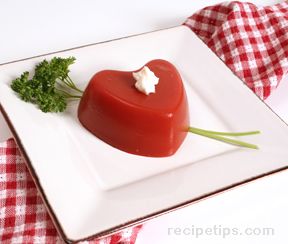 Directions
Place 1/2 cup of cold vegetable juice in a small mixing bowl and disperse the gelatin over the juice.
Allow juice and gelatin mixture to stand for 5 minutes so the gelatin softens.
Add 3-1/2 cups of tomato juice to saucepan, heat until hot, remove from heat, and add 1-1/2 gelatin mixture. Continue heating on medium heat setting and stir mixture until the gelatin dissolves into the juice, approximatly 4 to 5 minutes. Remove from heat.
If a more intense and hotter flavor is desired than is being provided by the brand of vegetable juice being used for this recipe, add a small amount of hot sauce.
If individual servings are to be molded, pour juice mixture into 4 small molds holding 1 cup each. If one large mold holding 4 servings is to be prepared, pour juice mixture into a mold that will hold 4 cups of liquid.
Refrigerate until mixture fully gels and is then ready for serving.
Prep Time: 15 minutes
Cook Time: 5 minutes
Container: Gelatin mold - individual molds or large mold
Servings: 4
Serving Size: 1 cup


Ingredients
-
1/2 cup vegetable juice, cold and divided
-
3 1/2 cups vegetable juice, heated until hot
-
2 tablespoons unflavored gelatin