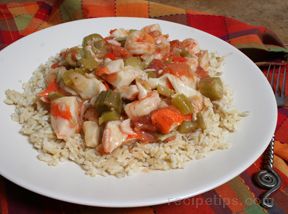 Directions
Add flour to melted crisco.
Stir and cook over medium heat until it starts to brown.
Add onions, celery and pepper.
Stir while it cooks for 5 minutes.
Add tomatoes, water, okra, salt and pepper.
Cook over medium low heat for at least 1 hour or until the vegetables are tender.
Add the shrimp and crab plus the filé.
May add a few dashes of tabasco for a little spice.
Serve over rice.
Prep Time: 15 minutes
Cook Time: 1 hour
Servings: 8


Ingredients
-
1/4 cup butter flavored crisco
-
2 tablespoons flour
-
1 pound fresh or frozen okra
-
1 large can of whole tomatoes
-
1 large can from the tomatoes full of water
-
1 cup celery - chopped
-
1 cup onion - chopped
-
1/4 cup red pepper - chopped
-
salt and pepper to taste
-
1 teaspoon gumbo filé or Old Bay Seasoning
-
2 cans crab meat or 1 package (14 oz.) imitation crab sticks
-
1 pound shrimp - peeled, cooked or uncooked