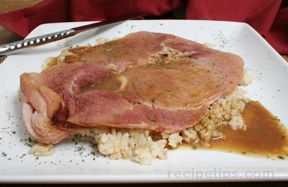 Directions
Trim any fat from the ham steaks and sauté in clarified butter until the edges of the ham turn golden and the butter starts to brown.
Remove ham from pan and keep warm.
In the same pan, pour in water, coffee and cream or milk.
Bring to a boil, stirring and scraping the bottom of the pan.
Cook until the gravy thickens. Note that this gravy does not get as thick as a regular gravy. If you want a thicker consistency, stir in 1 tablespoon of cornstarch and another 1/4 cup of milk. Keep stirring as it thickens.
Serve over warm ham with rice.
Prep Time: 5 minutes
Cook Time: 15 minutes
Container: skillet
Servings: 4
Serving Size: 1 piece


Ingredients
-
2 ham steaks, approximately 1 pound each, 1/4-1/2 inch thick
-
1/4 cup unsalted clarified butter
-
1 cup water
-
1 cup brewed coffee
-
1/4 cup heavy cream or milk