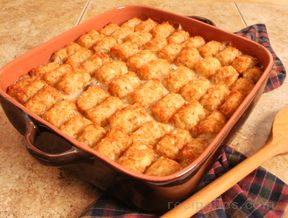 Directions
Preheat oven to 350°.
Coat the inside of the baking dish with cooking spray.
In a heavy skillet, brown the ground beef and drain off any excess fat.
Place the ground beef in the bottom of the baking dish.
In the same skillet, brown the onions until soft.
Place them on top of the ground beef.
Drain liquid from the canned corn and layer it on top of the onions.
In a small bowl, combine the two soups together and then spread this over the corn.
Place tator tots on top of the casserole and bake for 60-70 minutes.
Prep Time: 15 minutes
Cook Time: 1 hour
Container: heavy skillet, 2-3 quart baking dish
Servings: 6


Ingredients
-
1 pound lean ground beef
-
1 onion - chopped fine
-
1 can (10 3/4 oz.) cream of celery soup
-
1 can (10 3/4 oz.) cream of mushroom soup
-
1 can (11 oz.) corn
-
1 package (28 oz.) frozen tator tots