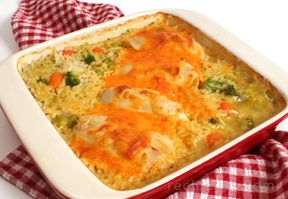 Directions
Preheat oven to 375ºF.
Coat inside of casserole with cooking spray.
Fill a large sauce pan with 6 cups of water.
Add 2 teaspoons salt, 1 teaspoon garlic powder, and 1/2 teaspoon black pepper.
Bring to a boil.
Add chicken breasts. Cover, reduce heat to medium and cook 15 minutes.
Remove chicken breasts from water and set aside.
In a bowl, combine rice, chicken broth, mixed vegetables, garlic powder, minced onion, and cream soup.
Pour mixture into prepared casserole, top with chicken breasts, and sprinkle with cheddar cheese.
Cover and bake for 20 minutes.
Remove cover and bake an additional 25 minutes, or until liquids are absorbed and rice is tender.
Prep Time: 15 minutes
Cook Time: 45 minutes
Container: 2 quart casserole and large saucepan
Servings: 4


Ingredients
-
6 cups water
-
2 teaspoons salt
-
1 teaspoon garlic powder
-
1/2 teaspoon pepper
-
4 chicken breasts, skinless and boneless
-
1 cup instant rice, uncooked
-
2 cups chicken broth or stock
-
16 ounces frozen mixed vegetables
-
1/2 teaspoon garlic powder
-
1 tablespoon minced dried onions
-
10 3/4 ounces cream of chicken soup, undiluted
-
2/3 cup shredded cheddar cheese