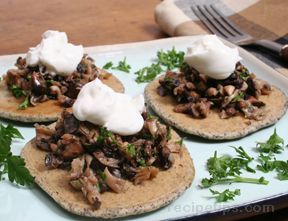 Directions
MUSHROOM TOPPING:
Chop mushrooms and place in glass bowl.
Toss with celery salt and cover with a weighted plate.
Leave mushrooms out for approximately 1 hours so that the mushrooms release their juices.
Drain mushrooms in a strainer and press out as much liquid as you can with the back of a wooden spoon.
Return to the bowl and mix with sesame oil, lemon juice, parsley and a twist of fresh pepper.
May add 1/2 of grated lemon if desired.
Chill until ready to use.

BLINIS:
Sift flours with salt in a mixing bowl.
Gently warm the milk to 110° in a small saucepan.
Add yeast to the milk, stirring to dissolve.
Pour mixture into the flour mixture.
Add egg yolks and stir to make a smooth batter.
Cover with a damp cloth and leave in a warm place for approximately one hour. This batter will not rise, it remains a thick liquid.
Whisk egg whites in a clean bowl until stiff peaks form.
Fold into the batter.
Heat an iron pan or griddle to medium temperature.
Lightly grease the pan.
Drop serving spoonfuls of batter onto the griddle.
When bubbles form on the top, flip with a spatula and cook briefly on the other sie.
The blinis will be light brown in color.
Transfer to a serving plate.
Spoon on mushroom mixture and top with a small dollop of sour cream and a sprinkle of parsley.
Prep Time: 1 hour
Cook Time: 5 minutes
Servings: 4
Serving Size: 4


Ingredients
-
MUSHROOMS:
-
6 ounces portobello mushrooms - finely chopped
-
3 ounces oyster mushrooms - finely chopped
-
1 teaspoon celery salt
-
2 tablespoons sesame oil
-
1 tablespoon lemon juice
-
3 tablespoons fresh parsley - chopped
-
ground black pepper
-
1/2 lemon - grated
-
BLINIS:
-
1 cup white bread flour
-
1/2 cup buckwheat flour
-
1/2 teaspoon salt
-
1 1/4 cups milk
-
1 teaspoon rapid rise yeast
-
2 eggs - separated
-
sour cream for garnish