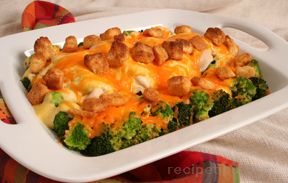 Directions
Preheat oven to 350° F.
Coat inside of the casserole dish with nonstick cooking spray.
Fill a large sauce pan with 6 cups water, chicken bouillon, onion, garlic and bay leaf. Bring to a boil.
Add chicken breasts, reduce heat, and cook 15 minutes.
Drain and cut into cubes approximately 1/2 inch in size; set aside.
Place broccoli in a heat safe container. Pour boiling salt water over broccoli; drain.
In a mixing bowl, combine mayonnaise, cream soup, lemon juice, and curry powder.
Arrange broccoli in bottom of prepared baking dish. Place chicken on top and cover with sauce, cheese, and croutons.
Drizzle melted butter over the entire casserole.
Bake uncovered 40 to 45 minutes.
Serve the casserole over a bed of rice if desired.

TIP: For a quick and easy alternative, purchase a rotisserie chicken; remove the skin; and use the breast, thigh, and leg meat. You can also purchase microwave ready bagged vegetables that reduce the preparation and cooking time for this recipe.
Prep Time: 30 minutes
Cook Time: 45 minutes
Container: 3-quart casserole and large sauce pan
Servings: 6


Ingredients
-
6 cups water
-
2 teaspoons chicken bouillon granules or 2 cubes
-
1 bay leaf
-
2 tablespoons minced dried onion or 1/2 fresh onion
-
2 teaspoons garlic, fresh or dried
-
4 chicken breasts, skinless-boneless
-
20 ounces broccoli, fresh or frozen
-
1 can cream of chicken soup - 10 3/4 oz. can
-
1/2 cup mayonnaise
-
1 teaspoon lemon juice
-
1/2 teaspoon curry powder, optional
-
8 ounces shredded cheddar cheese
-
1 cup seasoned croutons
-
1/4 cup butter, melted
-
Rice for 6 servings, optional