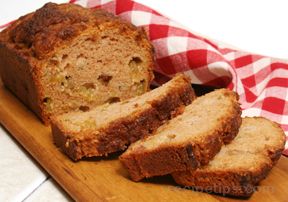 Directions
Prepare 2 regular loaf pans by greasing and flouring the bottom and sides.
In a large mixing bowl combine the brown sugar, white sugar, oil, and egg. Beat these ingredients until they are evenly mixed.
Add the buttermilk, soda, salt, cinnamon, vanilla, and flour. Beat with hand mixer until well combined.
Add the rhubarb and stir into the bread batter until evenly distributed.
Pour half the batter into each prepared loaf pan.
Using a fork, mix the brown sugar with the margarine, do not melt the margarine.
Sprinkle the brown sugar and margarine mixture on top of each loaf, keeping it away from the edges of the pan. If it is close to the pan it has a tendency to burn when baking.
Bake at 375°F for 45 to 50 minutes. Check doneness by poking a toothpick in the center of the loaf. It is done if it comes out clean.
When done remove from the oven and allow the bread to cool for 10 minutes before removing it from the pans.
Prep Time: 1 hour
Cook Time: 45 minutes
Container: Loaf pans
Servings: 24
Serving Size: 1 slice


Ingredients
-
1 cup brown sugar
-
1/2 cup white sugar
-
2/3 cup vegetable oil
-
1 egg
-
1 cup buttermilk (or 1 tbsp. lemon juice plus enough milk to make 1 cup)
-
1 teaspoon baking soda
-
1 teaspoon salt
-
1 teaspoon cinnamon
-
1 teaspoon vanilla
-
2 1/2 cups flour
-
1 1/2 cups diced rhubarb
-
TOPPING:
-
1/2 cup brown sugar
-
1 tablespoon margarine