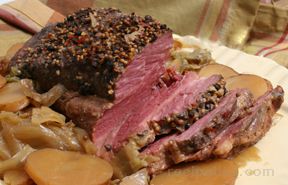 Directions
Place meat, potatoes, onion, and cabbage in a slow cooker.
Sprinkle with the seasoning packet that came packaged with the corned beef.
Combine apple juice, brown sugar, and mustard in a medium bowl.
Pour over the vegetables and meat.
Cover and cook on high for 6 to 6 1/2 hours or on low for 10 to 12 hours. The meat and vegetables should be very tender.
Remove the meat and vegetables from the slow cooker.
Thinly slice the meat across the grain and serve with the vegetables.
Serve with crusty bread if desired.
Prep Time: 10 minutes
Cook Time: 6 or more hours
Container: large slow cooker
Servings: 8


Ingredients
-
3 pounds corned beef brisket
-
5 medium potatoes, scrubbed, unpeeled, sliced into 1 inch chunks
-
1 large onion - cut into wedges
-
1 head of cabbage - cut into wedges
-
4 cups apple juice
-
1 cup brown sugar
-
1 tablespoon Dijon mustard