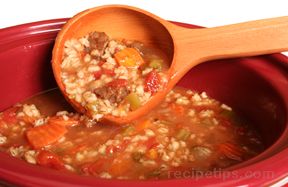 Directions
Over medium high heat, add oil to skillet and brown meat. Add salt and pepper to taste.
Remove meat and place in slow cooker.
Add approximately 1/2 cup of stock to beef drippings in skillet. Cook approximately 30 seconds and pour into slow cooker.
Add prepared vegetables to slow cooker.
Add barley, broth, water, and seasonings.
Cover and cook on high approximately 4 hours or cook on low for approximately 7 hours.
Prep Time: 20 minutes
Cook Time: 4 hours
Container: 4 quart slow cooker and heavy skillet
Servings: 4


Ingredients
-
1 1/2 pounds beef
-
1 tablespoon vegetable oil, more if needed
-
Salt and pepper to taste
-
1 large sweet onion, chopped
-
1 clove garlic, chopped
-
1/2 pound carrots, pre sliced
-
3 stalks stalk celery, chopped
-
1/2 cup chicken or beef stock
-
15 ounces diced tomatoes, not drained
-
14 ounces beef broth
-
14 ounces chicken broth
-
14 ounces water
-
1/2 cup medium barley
-
1 teaspoon beef bouillon granules