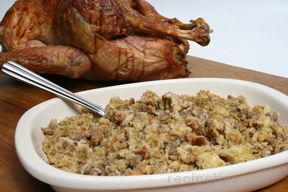 Directions
Cut bread into 1/2 inch cubes. Allow bread cubes to set out overnight to dry or bake in an oven at 275° F for approximately 20 minutes or until cubes are dry.
Fry ground sausage and crumble into small pieces. Drain grease and set crumbled sausage aside.
Melt butter in a skillet over medium heat. Add the onions and celery and cook until onions begin to soften and turn a light golden brown. The celery should still be slightly crunchy.
Remove the onions and celery from the heat and add the sage, salt and pepper.
Combine the bread cubes together with the onion and celery mixture and sausage in a large bowl and stir until the ingredients are well mixed.
Begin adding the broth or stock gradually. Only add enough liquid to moisten the stuffing enough for it to hold together. Begin by adding 1 cup or less.
When adding liquid, remember that the eggs still need to be added, which will add a little moisture also. Taste test the stuffing to see if it is properly seasoned before adding the eggs.
Add more seasoning if necessary after taste testing. When stuffing is properly seasoned, add the beaten eggs and stir until they are well distributed.
If necessary, more liquid can be added after the eggs are added to further moisten the stuffing but it should not be tasted again until it is cooked properly.
If the stuffing is going to be cooked in the cavity of the turkey, leave it drier than if cooking in a separate baking dish. It will take on additional moisture from the turkey's juices as it cooks.
If cooking the stuffing in a turkey or chicken, place the stuffing in the cavity and roast according to the turkey cooking instructions. The stuffing must reach 165° F through to the center before serving.
If baking in a separate baking dish, cover with foil and bake at 350° F for 45 minutes. Remove the foil for the last 20 minutes of cooking time. Be sure the dressing reaches 165° F before serving.
Prep Time: 1.5 hours
Cook Time: 45 minutes
Servings: 12


Ingredients
-
12 cups half inch cubed bread (can use mixture of white and wheat), approximately a 1 lb. loaf
-
1 pound ground pork sausage
-
3/4 cup margarine
-
1/2 cup finely chopped onion
-
2 cups chopped celery (4 to 5 stalks)
-
1 teaspoon sage
-
1 teaspoon salt
-
1/2 teaspoon pepper
-
3 eggs
-
2 cups turkey/chicken broth or stock