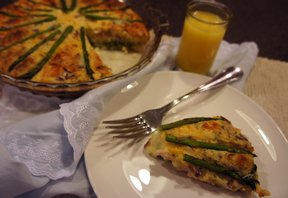 Directions
In two greased 9" pie plates, layer asparagus, ham, cheese, and onion.

In a bowl, beat eggs. Add remaining ingredients to eggs and mix well.

Pour 1/2 egg mixture over asparagus mixture in each pie plate. Bake at 375 for 30 minutes or until knife inserted near the center comes out clean.
Prep Time: 15 minutes
Cook Time: 30 minutes
Servings: 12


Ingredients
-
2 bunches asparagus
-
1 pound fully cooked ham, diced
-
1 package shredded Swiss cheese (8 ounce pkg)
-
1/2 cup onion, diced
-
6 eggs
-
2 cups milk
-
1 1/2 cups Bisquick mix
-
2 tablespoons dried vegetable flakes
-
1/4 teaspoon pepper