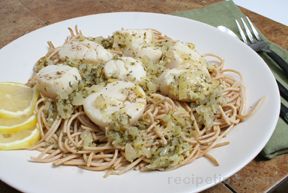 Directions
Coat a large skillet with 1 tablespoon of melted butter.
Heat to medium high heat.
Add scallops and sear on each side 3-5 minutes or until opaque. Don't overcook.
Remove from heat, keep warm.
Add 1 tablespoon olive oil to pan, cook onion and garlic until tender.
Stir in chicken broth and lemon juice.
Simmer 5 minutes.
Stir in fresh or dried parsley, dash of salt and ground black pepper.
Cook pasta according to package directions.
To Serve:
Divide pasta between two large bowls.
Spoon scallops over pasta, top with sauce.
Sprinkle with parmesan cheese and fresh parsley if desired.

Note: For extra creaminess, add in 2 tablespoons of unsalted butter after adding the lemon juice, stir until melted.
Prep Time: 10 minutes
Cook Time: 15 minutes
Container: Large skillet, pasta pot
Servings: 2


Ingredients
-
3/4 pound scallops
-
1 clove garlic - chopped fine
-
1/2 large onion - chopped fine
-
1 tablespoon olive oil
-
1/4 cup chicken or vegetable broth
-
1/4 cup lemon juice or 1/2 fresh squeezed lemon
-
1/4 cup fresh parsley - chopped, more for garnish or 2 tablespoons dried parsley
-
whole wheat or regular pasta
-
fresh parmesan cheese - grated, optional