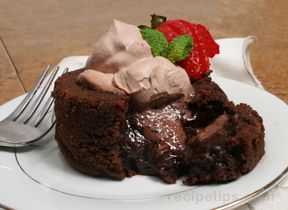 Directions
Grease or butter 4 custard cups or soufflé dishes. Place on a baking sheet.
Microwave chocolate and butter together in a medium bowl for approximately 1 minute.
Take the chocolate mixture out of microwave and whisk until the chocolate is completely melted.
Whisk in vanilla and sugar until blended.
Lightly beat the eggs and egg yolk together and then whisk them into the chocolate.
Stir in the flour, cinnamon, nutmeg, and ginger.
Spoon evenly into the prepared dishes, filling each approximately 3/4 full.
Bake in a preheated oven at 425° for 10 minutes. The sides should be firm but the centers should be very soft.
Remove from the oven and let stand for 1 minute.
Run a table knife around the edges to loosen.
Invert onto a serving plate.
Sprinkle with confectioners' sugar or add a dollop of whip cream and strawberries.
Prep Time: 10 minutes
Cook Time: 10 minutes
Container: custard cups or soufflé dishes, baking sheet, mixing bowl
Servings: 4


Ingredients
-
4 ounces semi-sweet baking chocolate - 4 squares
-
1/2 cup (1 stick) butter
-
1 teaspoon vanilla extract
-
1 cup confectioners' sugar
-
2 eggs
-
1 egg yolk
-
6 tablespoons flour
-
1/4 teaspoon cinnamon
-
1/4 teaspoon nutmeg
-
1/4 teaspoon ground ginger