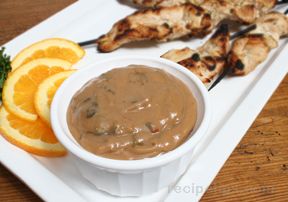 Directions
Place coconut milk, peanut butter, sugar, soy sauce, onion, chile sauce, garlic, vinegar, lime zest, cilantro and basil in a medium saucepan.
Bring just to a simmer while stirring.
Do not boil.
Continue cooking until sauce thickens - approximately 5 minutes.
Remove from heat, store in the refrigerator if not using right away.
Reheat before serving.
This sauce may be strained after removing it from the heat if desired, but not necessary.

Note: Coconut milk can be found in the baking section of most grocery stores. Pour it into a bowl and stir to blend before using.
Prep Time: 10 minutes
Cook Time: 5 minutes


Ingredients
-
1 1/2 cups canned coconut milk
-
6 tablespoons creamy peanut butter
-
3 tablespoons brown sugar
-
3 tablespoons green onion - minced
-
2 teaspoons thai style chile sauce or thai red curry paste
-
2 teaspoons rice vinegar - unseasoned
-
1 teaspoon lime zest - minced
-
1/2 cup fresh cilantro - minced
-
3 tablespoons fresh basil - minced
-
1 tablespoon soy sauce