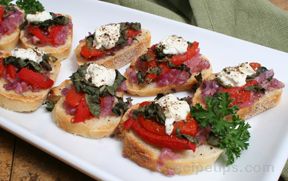 Directions
Cut baguette into 18 slices, place on baking sheet.
Broil for 1 minute. Set aside.
Cook onion and sugar in oil over medium low heat, stirring occasionally for 25 minutes. Allow to cool.
Top bread slices evenly with onion mixture, then 1-2 pepper strips on each, then a sprinkle of basil.
Top each with approximately 1/2 teaspoon of cheese.
Broil for 2-3 minutes or until the cheese is warmed and melted.
Sprinkle each with fresh ground pepper.
Serve warm or at room temperature.
May easily double this recipe.
Prep Time: 10 minutes
Cook Time: 25 minutes
Container: medium skillet, baking sheet
Servings: 18


Ingredients
-
1/2 baguette or french loaf - sliced into 1/2 inch slices
-
1/2 purple onion - coarsely chopped
-
1 teaspoon sugar
-
2 tablespoons olive oil
-
15 small basil leaves - sliced chiffonad
-
7 ounces can roasted red bell pepper - drained, cut into strips or prepared your own
-
3 ounces goat cheese - plain or peppered