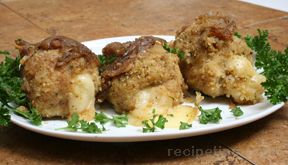 Directions
Spray baking pan lightly.
Cut each breast into 3 strips, may need to lightly pound to flatten.
Place cheese cube at one end of a strip, roll up and secure with a toothpick.
Pour olive oil in one bowl, bread crumbs in another.
Dip chicken in olive oil on all sides then in breadcrumbs.
Place in baking pan.
Top with bay leaves and sliced onions.
Bake 20-30 minutes or until chicken is fully cooked and cheese has melted. Some cheese may melt out the sides of the roll ups.
Serve warm.
Prep Time: 20 minutes
Cook Time: 25 minutes
Container: 9x13 baking dish, 2 small bowls
Servings: 15


Ingredients
-
5 large, boneless, skinless chicken breasts
-
6 ounces parmesan, swiss or asiago cheese - cut into 2 inch cubes
-
1/2 cup olive oil
-
2 cups Italian or seasoned bread crumbs
-
6 dried bay leaves
-
1 large white onion - sliced thinly lengthwise