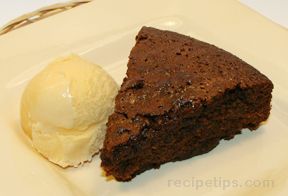 Directions
Prepare pan: oil an 8 inch springform or other baking pan. Cut a circle of parchment paper (use aluminum foil if you don't have parchment) to fit the bottom of the pan. Press into place, then oil the parchment.
Preheat the oven to 325° F..
Mix dry ingredients (flour, ground ginger, soda and salt) and set aside.
Soak raisins or apricots in 2 tablespoons liquid (sherry, wine, orange juice or milk)
Cream butter and sugar (mix together until somewhat fluffy - an elecrtic mixer makes this much quicker). Beat in eggs, one at a time. Add honey, molasses, fresh ginger (See TIP) and crystallized ginger. Mix well.
By hand, stir in flour mixture just until well blended.
Pour into prepared pan. Bake until a skewer or cake tester inserted into the center comes out with a few moist crumbs, about 45 minutes.
Cool on a rack for 10 - 15 minutes before removing from pan. Carefully remove paper or foil from the bottom.
TIP: To keep fresh ginger on hand, peel it and freeze in a small glass container. To use, grate or chop as needed, without thawing.
Prep Time: 20 minutes
Cook Time: 45 minutes
Container: 8 inch round spring-form pan or baking dish
Servings: 10


Ingredients
-
2 cups flour: all-purpose white, whole wheat, or a blend
-
1 teaspoon baking soda
-
1/2 teaspoon salt
-
2 teaspoons ground ginger
-
1/4 cup golden raisins or dried apricots, chopped
-
2 tablespoons sherry, wine, orange juice or milk
-
1/2 cup butter
-
2/3 cup sugar
-
2 eggs
-
1 cup molasses
-
1/2 cup honey
-
2 tablespoons grated or finely chopped fresh ginger
-
1/4 cup crystallized ginger