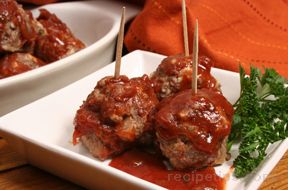 Directions
Sauté the chopped bacon in small skillet over medium heat, when bacon is half cooked, add diced onions and garlic. Continue to sauté until bacon is cooked and onions transparent. Pour bacon mixture on paper towels to absorb grease. Set aside.
In large mixing bowl combine all remaining ingredients. Mix slightly, don't over mix. Round each meatball in hands making about 1 - 1 1/2" round (depending on the size you want). Should be firm in shape but not packed tight. Place on cookie sheets sprayed with cooking spray and bake at 350 degrees for 15-20 minutes or until cooked through.
Remove from cookie sheet and place in large mixing bowl, pour the rest of the Raspberry Chipotle Salsa over the meatballs (or to taste), mix gently.
Serve in warming dish or serving platter. Can also be kept warm in slow cooker on low heat.
Prep Time: 25 minutes
Cook Time: 35 minutes
Container: Skillet, large mixing bowl, cookie sheets
Servings: 55
Serving Size: 1 piece


Ingredients
-
slices bacon
-
1/4 cup onion, chopped
-
1 tablespoon garlic, fresh, minced
-
2 pounds ground pork
-
1 pound ground beef
-
1/3 cup raspberry chipotle salsa
-
1/4 cup dried craisins, chopped
-
1/4 cup bread crumbs, plain or seasoned
-
2 tablespoons milk or cream
-
egg, beaten
-
1 teaspoon basil, dried
-
1 teaspoon oregano, dried
-
2 teaspoons salt
-
1 teaspoon pepper (to taste)
-
1/2 teaspoon cayenne pepper (to taste)