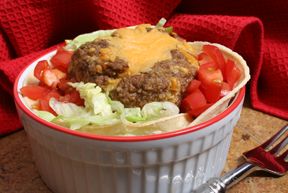 Directions
In each tortilla cut a 1" slit towards the center (at the 12, 3, 9 o'clock positions). Place a tortilla in each of the 4 custard or muffin cups.
Combine meat, bread crumbs, picante sauce, egg and chile powder. Blend well.
Divide meat mixture into 4 equal portions. Place each portion in 1 tortilla lined custard cup.
Make slight indentations in center of loaf with spoon or thumb.
Place in oven and bake at 350 degrees for 40 minutes.
Remove from oven and sprinkle each center with shredded cheese of choice.
Let sit 2-3 minutes. Garnish with lettuce and tomatoes.
*May also microwave loaves at 70 percent (med-high) 8-9 minutes, rotating cups part way through. Remove and top with cheese.
Prep Time: 15 minutes
Cook Time: 40 minutes
Container: 4 (10 oz.) custard cups or large muffin tin.
Servings: 4


Ingredients
-
6-inch tortillas
-
1 pound ground beef
-
1/2 cup bread crumbs
-
1/3 cup picante sauce or salsa
-
egg, beaten
-
1 teaspoon chili powder, or more to taste if you want spicier
-
1/2 cup shredded cheddar, colby or monterey jack for topping
-
garnish with lettuce & tomatoes