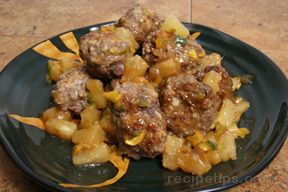 Directions
Mix together beef, crumbs, onion, egg, salt, ginger & milk.
Shape mixture into 1" balls.
Melt shortening or vegetable oil in large skillet.
Cook and brown meatballs until done, 10-15 minutes. Remove and keep warm in 200 degree oven.
Pour fat from skillet, discard.
Mix cornstarch and sugar. Whisk in reserved pineapple syrup, vinegar, and soy sauce until smooth. Pour into skillet, cook over medium heat, whisking constantly until mixture thickens and boils.
Add meatballs, tidbits and green pepper. Heat thoroughly.
*Can be stored and/or frozen in plastic sealed bags or container.
Prep Time: 15 minutes
Cook Time: 25 minutes
Container: Large mixing bowl, skillet
Serving Size: 2 pieces


Ingredients
-
1 1/2 pounds ground beef
-
2/3 cup cracker crumbs or bread crumbs (plain)
-
1/3 cup minced onion
-
egg
-
1 1/2 teaspoons salt
-
1/4 teaspoon ginger (powdered)
-
1/4 cup milk
-
1 tablespoon shortening or vegetable oil
-
2 tablespoons cornstarch
-
1/2 cup brown sugar
-
13 ounces 1 can, pineapple tidbits, drained and reserve syrup
-
1/3 cup vinegar (apple cider)
-
1 tablespoon soy sauce
-
1/3 cup green pepper