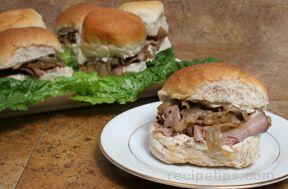 Directions
BLUE CHEESE SPREAD:
Beat cream cheese with an electric mixer until creamy.
Add sour cream, Worcestershire sauce and hot sauce.
Stir until blended.
Stir in blue cheese and walnuts.
Cover and chill for two hours.
Left over spread is great on steak or add a splash of milk to transform it into a wonderful salad dressing.
CARMELIZED ONIONS:
Heat oil in a dutch oven over medium heat.
Add onions.
Cook, stirring often, 30 minutes or until carmelized.
Stir in vinegar and pepper.
Remove from heat, cool slightly.

ASSEMBLING SANDWICHES:
Split rolls in half.
Spread tops and bottoms of rolls with the blue cheese spread.
Place roast beef on bottoms of rolls.
Top beef with carmelized onions.
Cover with tops.

Note: the blue cheese spread and carmelized onions may be made one day ahead. Assemble the sandwiches no more than 2 hours before serving.
Prep Time: 30 minutes
Cook Time: 30 minutes


Ingredients
-
BLUE CHEESE SPREAD:
-
1 1/2 packages (8 oz.) cream cheese - softened
-
8 ounces sour cream
-
2 teaspoons Worcestershire sauce
-
1 teaspoon hot sauce
-
6 ounces blue cheese - crumbled, can use Maytag, Stilton or Gorgonzola
-
1/2 cup walnut halves - toasted and chopped
-
CARMELIZED ONIONS:
-
3 tablespoons olive oil
-
3 large, sweet onions - thinly sliced
-
1 1/2 tablespoons balsamic vinegar
-
1/4 teaspoon fresh ground pepper - or to taste
-
36 cocktail sandwich buns
-
1 1/2 pounds deli sliced roast beef