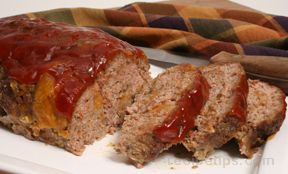 Directions
Combine beef, egg, Worcestershire sauce, pepper, salt, milk, onion and bread crumbs in a large mixing bowl.
Mix well.
Roll out onto wax paper into an 8x5 rectangle, 1/2 inch thick.
Sprinkle cheese and mushroom on top of beef mixture.
Roll lengthwise like a jelly roll.
Place seam side down in baking dish.
Bake for one hour at 350° - or you can microwave turning occasionally for 25-30 minutes on roast.
Blend brown sugar and ketchup.
Spread over loaf as soon as it comes out of the oven. May not need to use all of the ketchup mixture on top.
Prep Time: 15 minutes
Cook Time: 1 hour
Container: baking dish, large mixing bowl
Servings: 8


Ingredients
-
1 1/2 pounds ground beef
-
1 egg - slightly beaten
-
1 tablespoon Worcestershire sauce
-
1/4 teaspoon pepper
-
1/4 teaspoon salt
-
1/2 cup milk
-
1/4 cup onion - chopped
-
1/3 cup dry bread crumbs
-
1 cup cheddar or monterey jack cheese - grated
-
1 can(4 ounces) mushroom pieces - drained or 4 oz. fresh mushrooms - chopped and sauteéd in butter until brown
-
3/4 cup ketchup
-
1/4 cup brown sugar