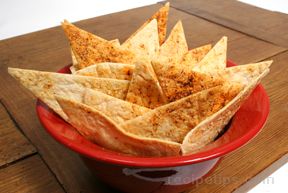 Directions
Preheat 300°.
Cut each tortilla into 6 triangles and brush on vegetable oil on one side of each.
Place oil side up on a baking sheet.
Bake until crisp, 25-30 minutes.
Sprinkle each with a small amount of seasoning salt and chili powder or to taste.
Serve with your favorite salsa, dip or chili.
Prep Time: 10 minutes
Cook Time: 10 minutes
Container: baking sheet


Ingredients
-
6 flour tortillas
-
4 tablespoons vegetable oil
-
2 teaspoons chili powder
-
2 teaspoons seasoning salt