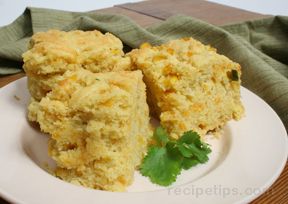 Directions
Preheat oven to 375°.
Butter or grease a baking dish.
In a large mixing bowl, combine cornmeal, flour, sugar, baking powder and salt.
Mix with a fork.
Stir in the eggs, cream and melted butter.
Fold in corn, cheese and jalapeno pepper until well distributed.
Spoon batter into the prepared baking dish.
Bake until a cake tester or toothpick inserted in the center of the corn bread comes out clean, 35-40 minutes.

Note: You can use as much or as little jalapeno as desired in this recipe.
Prep Time: 10 minutes
Cook Time: 35 minutes
Container: 8 inch square or round baking dish
Servings: 8


Ingredients
-
1 cup yellow corn meal
-
1 cup flour
-
1/4 cup sugar
-
1 tablespoon baking powder
-
1 pinch kosher salt
-
3 large eggs
-
1 cup heavy cream
-
1/4 cup (1/2 stick) butter or margarine - melted
-
1 cup corn kernels - fesh, canned or frozen
-
2/3 cup cheddar cheese - grated - can substitute monterey jack or sharp cheddar
-
1 medium jalapeno pepper - seeded, chopped fine, or jarred jalapeño (3 teaspoons) chopped fine