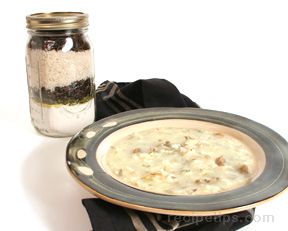 Directions
GIFT INSTRUCTIONS:
Layer the ingredients in the order given into a wide mouth one quart canning jar.
Pack each layer in place before adding the next ingredient.
Cover the jar tightly with a canning jar lid.
Attach a gift tag on top of the jar with the cooking directions on it.

COOKING DIRECTIONS:
Place creamy wild rice and mushroom soup mix into a large soup pot.
Add mushrooms and water.
Heat to boiling then reduce heat, cover and simmer for 20-25 minutes or until the rice is tender.
Stir occasionally.
Prep Time: 5 minutes
Servings: 12


Ingredients
-
MIX INGREDIENTS:
-
2 packages (2.75 oz. each) country gravy mix
-
2 tablespoons chicken flavored instant bouillon granules
-
1 1/2 tablespoons dried minced onion
-
1 tablespoon dried celery flakes
-
1 tablespoon dried parsley flakes
-
1/2 cup wild rice
-
1 1/3 cups white rice
-
1/2 cup wild rice
-
COOKING INGREDIENTS:
-
1 can (4 oz.) mushrooms
-
14 cups water