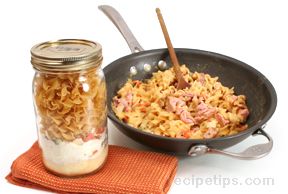 Directions
Layer the ingredients in the order given into a wide mouth one quart canning jar.
Pack each layer in place before adding the next ingredient.
Attach a gift tag to the top of the jar with the cooking directions.

COOKING DIRECTIONS:
In a medium skillet, place the ham and noodle casserole mix and stir in water.
Over medium hight heat, heat to a boil, stirring often.
Reduce heat to medium and cook until the noodles are tender, stirring often.
Add more water as needed to reach desired consistency.
Add ham and heat through.
Season with salt and pepper to taste.
Servings: 4


Ingredients
-
MIX INGREDIENTS:
-
quart canning jar
-
3/4 cup parmesan cheese
-
1/2 cup instant dry milk
-
1 package (14 oz.) Knorr vegetable soup mix
-
2 1/2 cups egg noodles
-
COOKING INGREDIENTS:
-
2 1/2 cups water
-
1 can (6 oz.) cooked chopped ham - chicken, tuna or turkey may be substituted