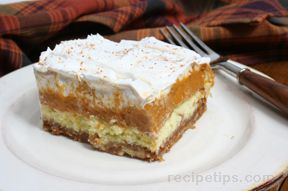 Directions
CRUST:
In a medium bowl, mix the crumbs, walnuts, sugar and cinnamon together.
Stir in melted butter until all is moistened.
Press into an ungreased 13x9 baking dish.

CREAM CHEESE FILLING:
In a large mixing bowl, beat the cream cheese until smooth.
Beat in a sugar and eggs until fluffy.
Pour over the crust and bake at 350 degrees for 20 minutes or until set.
Allow to cool.

PUMPKIN PIE FILLING:
In a large saucepan, combine the pumpkin, egg yolks, 1/2 cup of sugar, milk, cinnamon and salt.
Cook and stir over low heat 10-12 minutes or until mixture thickens.
Remove from heat.
In a small saucepan, sprinkle gelatin over cold water, let stand for 1 minute.
Over low heat, stir the gelatin until it is dissolved completely.
Stir in the pumpkin mixture, allow to cool.
Beat the egg whites, with the remaining 1/4 cup of sugar until stiff peaks form. May not get real stiff but will become thick and glossy.
Fold into the pumpkin mixture.
Pour pumpkin mixture over the cream cheese layer.
Top with a layer of whipped cream topping.
Refrigerate for at least 4 hours or until completely set.
Prep Time: 45 minutes
Cook Time: 20 minutes
Container: 9x13 baking dish, mixing bowls, saucepans
Servings: 15


Ingredients
-
CRUST:
-
1 1/2 cups graham cracker crumbs
-
1/3 cup sugar
-
1/2 cup walnuts - chopped fine
-
1 teaspoon ground cinnamon
-
1/3 cup (5 tablespoons) butter - melted
-
CREAM CHEESE FILLING:
-
12 ounces cream cheese - softened
-
1 cup sugar
-
3 eggs
-
PUMPKIN FILLING:
-
15 ounces (1 can) solid packed pumpkin
-
3 eggs - separated
-
3/4 cup sugar - divided
-
1/2 cup milk
-
2 tablespoons ground cinnamon
-
1/2 teaspoon salt
-
1 envelope of unflavored gelatin
-
1/4 cup cold water
-
8 ounces (1 tub) whipped topping