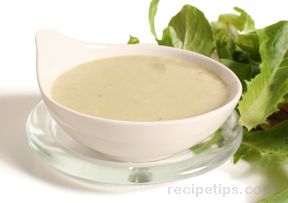 Directions
Whisk together vinegar and Dijon mustard. Season to taste.
Add oil and blue cheese to vinegar and mustard, whisking all ingredients together. Stir until smooth.
Cover and refrigerate until ready to serve.
When ready to serve, whisk before combining into salad greens. Then drizzle 1 to 2 tablespoons over each salad serving or drizzle entire amount over bowl containing all of the salad greens.
Prep Time: 10 minutes
Container: small mixing bowl
Servings: 6
Serving Size: 1 tablespoon


Ingredients
-
3 tablespoons rice vinegar
-
2 teaspoons Dijon mustard
-
salt and pepper to taste
-
4 tablespoons olive oil (or canola oil)
-
4 tablespoons blue cheese