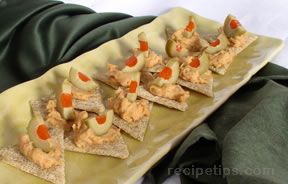 Directions
Place pieces of salmon in food processor and chop into fine bits by pulsing in processor.
Place butter in mixing bowl and manually whisk or beat with electric mixer until an airy and fluffy texture is achieved.
Add salmon to butter and mix together.
Combine onion and lemon juice. Season with salt and pepper to taste.
Place mixture in an airtight container and refrigerate for 8 hours to allow flavors to blend together.
When ready to serve, spread on small crackers or crusty baguette slices.
Garnish with an slice of green olive stuffed with a pimento.
Note: Salmon pate is readily available in food stores, so if time for preparation is limited, the processed product can be substituted.
Prep Time: 15 minutes
Servings: 15
Serving Size: 3 pieces


Ingredients
-
1/4 pound unsalted butter, softened
-
1 pound salmon, cooked or smoked
-
3/4 cup sweet onion, minced
-
1 tablespoon lemon juice, fresh squeezed
-
salt, to taste
-
ground pepper, to taste
-
4 ounces thin crackers
-
25 each green olives, pimento stuffed