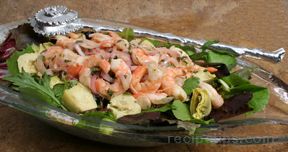 Directions
Chop garlic and crush it to a pulp with 1 teaspoon of salt, using the flat edge of a heavy knife blade or pestle and mortar.
Mix the garlic and mustard to a paste in a medium bowl.
Beat in the vinegar and then pour a steady stream of olive oil, whisking it in to make a thick and creamy dressing.
Season with salt and pepper.
Stir in basil or parsley into the dressing.
Add in sliced red onion.
Let stand for at least 30 minutes at room temperature.
Stir in shrimp and refrigerate for 1 hour or until ready to serve.
Halve the artichokes and shred the iceberg lettuce.
Make a bed of both lettuces mixed together in one big bowl or on individual salad plates.
Spread artichokes over lettuce.
Immediately before serving, pour shrimp and marinade on top of the salad.
Prep Time: 10 minutes
Container: medium mixing bowl, large salad bowl
Servings: 6


Ingredients
-
1 clove garlic
-
2 teaspoons Dijon mustard
-
4 tablespoons red wine vinegar
-
2/3 cup olive oil
-
3 tablespoons fresh basil leaves - shredded or 2 tablespoons fresh parsley - chopped fine
-
1 red onion - thinly sliced
-
16 ounces cooked shrimp - peeled
-
14 ounces (1 can) arichoke hearts - drained
-
1/2 head of iceberg lettuce
-
1 container of mixed greens
-
salt and pepper to taste