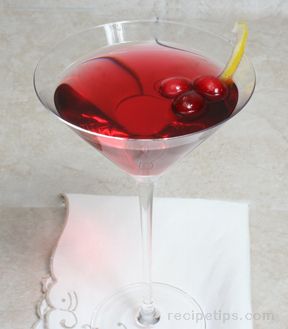 Directions
HOLIDAY MARTINI:
Combine the first 4 ingredients in a martini shaker.
Add ice to fill the shaker.
Cover with the lid and shake for 30 seconds or until chilled.
Remove lid and strain into a glass.
Garnish if desired with extra cranberries and a lemon twist.

CRANBERRY LIQUEUR:
Combine sugar and water in a medium saucepan.
Cook, stirring constantly, over medium heat for 5 minutes or until the sugar is dissolved.
Remove from heat and cool completely.
Meanwhile, remove rind from the orange with a vegetable peeler, being careful not to get the white pith.
Cut rind into strips and set aside.
Process cranberries in food processor until finely chopped.
Combine sugar solution, orange rind, and cranberries into 1 gallon jar, stir in vodka.
Cover with a lid and store in a cool dark place for 1 month.
Strain liqueur through a cheesecloth into a bowl.
Discard solids.
Carefully pour into clean bottles or jars.
Yields 5 cups.
Can be stored in a cool dark place for up to 1 year.
Prep Time: 5 minutes
Servings: 1


Ingredients
-
HOLIDAY MARTINIl
-
1/3 cup cranberry juice
-
1/4 cup cranberry liqueur - store bought or use the recipe below
-
1/4 cup grand marnier or cointreau
-
1 tablespoon fresh lime juice
-
CRANBERRY LIQUEUR:
-
2 1/4 cups sugar
-
1 cup water
-
1 orange
-
1 pound fresh cranberries - 4 cups
-
4 cups vodka