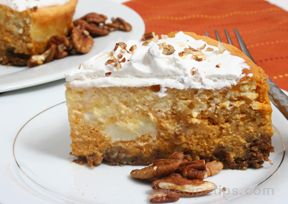 Directions
In a medium bowl, combine the graham crackers, gingersnaps, pecans, flour, powdered sugar and butter.
Press evenly in the bottom of a 9 inch spring form pan; set aside.
In a large mixing bowl, cream the cheese and sugar with an electric mixer until fluffy.
Add 3 eggs all at once, mix on low speed just until combined.
Place one cup of the cream cheese mixture in a medium bowl and add to that the pumpkin, 1 egg, milk, cinnamon, ginger and nutmeg.
Beat on low, just until combined.
Pour pumpkin mixture into the prepared springform pan.
Top with the remaining cream cheese mixture.
With a knife, gently swirl through the layers to marble.
Place springform in a shallow baking pan. (Do not make this a water bath, the baking pan is only to help catch any drippings.)
Bake in a 350° oven for 65 minutes or until the center appears to be set when shaken.
Cool on a wire rack for 15 minutes.
Loosen the crust from the sides and cool for an additional 30 minutes.
Remove sides of the pan.
Cool completely.
Cover and chill for at least 4 hours before serving.
Spread cool whip on the top and sprinkle with roasted pecans.
Prep Time: 15 minutes
Cook Time: 1 hour
Container: 9 inch spring form pan
Servings: 12


Ingredients
-
1/2 cup graham crackers - finely crushed
-
1/4 cup gingersnaps - finely crushed
-
2 tablespoons pecans - finely chopped
-
1 tablespoon flour
-
1 tablespoon powdered sugar
-
2 tablespoons butter or margarine - melted
-
16 ounces cream cheese - softened
-
1 cup sugar
-
4 eggs
-
15 ounces canned pumpkin
-
1/4 cup milk
-
1/2 teaspoon ground cinnamon
-
1/4 teaspoon ground ginger
-
1/4 teaspoon ground nutmeg
-
2 cups cool whip
-
Toasted pecans for garnish