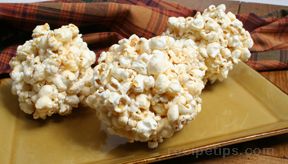 Directions
Pop 1 1/2 cups of popcorn (this should make 8 to 10 cups of popped corn), sort out any unpopped kernels, and place the popcorn in a large bowl.
Place sugar, whipping cream, syrup and butter in a saucepan and cook until a candy thermometer reads the soft ball stage. If you don't have a candy thermometer, you can use a spoon and drop a small amount of the syrup into a bowl of water, if the syrup turns into a soft pliable ball, it is ready.
Pour mixture over the popcorn, mix and shape into balls.
Allow to cool.
Prep Time: 5 minutes
Cook Time: 25 minutes
Container: sauce pan, large bowl
Servings: 6


Ingredients
-
1 cup sugar
-
1 cup whipping cream
-
3/4 cup light karo corn syrup
-
3 tablespoons butter