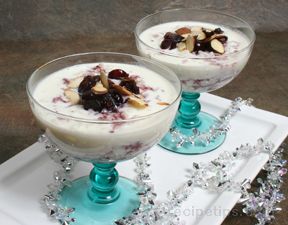 Directions
RICE PUDDING:
Combine water and rice in a large saucepan.
Bring to a boil, cover and reduce heat to a simmer.
Simmer for 15 minutes or until the liquid is absorbed and the rice is tender.
Stir in vanilla, sugar, half and half and salt.
Cook over medium low heat for 30 minutes, stirring often so it doesn't scorch on the bottom.
Add white chocolate morsels, shut off heat, stir until the chocolate is melted.
Allow to cool for 5 minutes.
Spoon into individual serving dishes or if not serving right away, put in a covered container in the refrigerator.
When serving, top with dried cranberry sauce and sprinkle with almonds.

DRIED CRANBERRY SAUCE
Combine all of the ingredients in a medium saucepan.
Bring to a boil, reduce heat and cook uncovered for approximately 30 minutes or until the sauce coats a spoon and is reduced to 1 cup.
Stir occasionally while cooking.
Cool completely before serving.
Serve over rice pudding.
Prep Time: 10 minutes
Cook Time: 45 minutes
Container: large saucepan, individual serving dishes
Servings: 8


Ingredients
-
RICE PUDDING:
-
1 1/2 cups hot water
-
3/4 cup basmati rice - or any medium grain rice
-
1 1/2 teaspoons vanilla extract
-
1/2 cup sugar
-
4 cups half and half
-
1/4 teaspoon salt
-
3/4 cup white chocolate chips
-
DIRED CRANBERRY SAUCE:
-
1/2 cup sliced almonds - toasted
-
1/2 cup dired cranberries
-
2 cups merlot wine
-
3/4 cup sugar
-
1 teaspoon grated orange rind
-
1 teaspoon grated fresh ginger