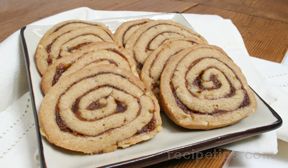 Directions
COOKIE:
Sift flour, salt and baking soda in a medium bowl.
Add nuts.
In a large mixing bowl, cream the butter and sugar until light.
Add egg and vanilla, beat until smooth.
Beat in flour mixture.
Refrigerate dough until stiff, approximately 2 hours.
Divide dough in half, roll out on an 8x8 piece of waxed paper.
Spread half of the filling over dough, wrap in waxed paper. Repeat with the second half of dough and filling.
Refrigerate over night.
Cut dough into 1/8 inch slices and place on a lightly greased cooke sheet.
Bake at 375° for 12-15 minutes.

FILLING:
In a saucepan, combine the dates and water.
Bring to a boil, reduce heat and simmer 15 minutes or until excess liquid has evaporated.
Cool slightly, cover and refrigerate until ready to use.
Servings: 24


Ingredients
-
FRUIT FILLING:
-
1 1/2 cups dates - pitted and chopped
-
1 cup water
-
COOKIE:
-
2 cups flour
-
1/2 teaspoon salt
-
1/4 tablespoon baking soda
-
1/2 cup nuts of choice - finely chopped
-
1/2 cup butter - softened
-
3/4 cup brown sugar
-
1 egg
-
1 teaspoon vanilla