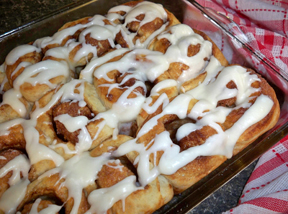 Directions
Thaw two Rich's Bread Dough according to package directions.
On a lightly floured surface, roll out the dough into 6 x 12 inch rectangle. Brush with melted butter.
Blend together sugar, cinnamon. Sprinkle evenly over the rectangle.
Roll up tightly, starting with the 6 in. side of the rectangle.
Cut into 8 slices. Place cut side up in an 9 x 13 in pan. Do same with other dough.
Cover and let rise at room temperature until double in size.
Bake in a preheated 375° oven for 18 to 22 minutes or until golden brown.
Remove from pan when cool.
To make icing: combine powdered sugar, milk, butter, and vanilla extract. Blend together until smooth. Frost rolls.
Prep Time: 1 hour
Cook Time: 20 minutes


Ingredients
-
2 loaves frozen bread dough (1 lb. loaves)
-
4 tablespoons margarine
-
1/2 cup sugar
-
2 teaspoons cinnamon
-
1/2 cup raisins (optional)
-
For icing
-
2 cups powdered sugar
-
4 tablespoons milk
-
1 tablespoon soften butter or margarine
-
1 teaspoon vanilla extract