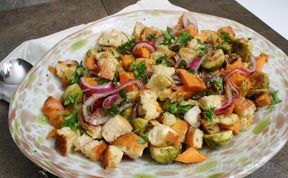 Directions
Preheat oven to 400°.
Melt butter in skillet oven medium heat.
Add garlic, thyme, herbs de provence and the bread cubes.
Stir to coat.
Add grated cheese and stir.
Transfer bread to a baking sheet and sprinkle with salt and pepper. Toss again.
Bake, stirring occasionally with a wide spatula, scraping across the bottom so that the cheese and seasonings don't stick and burn.
Bake until lightly browned. (Approximately 15 minutes)
Set aside to cool.
Soak sliced onion in vinegar and a pinch of salt for at least 15 minutes. This is called blooming the onion, which mellows it's flavor.
Toss sweet potatoes with 2 tablespoons of olive oil, sage, salt and pepper and Brussels sprouts.
Arrange in a single layer on a baking sheet and bake at 400° until the potatoes and Brussels are tender. (15-20 minutes)
Allow to cool.
Into the onions, pour 1/2 cup of olive oil and season with pepper. If not serving the salad right away, this can be kept in a separate container and refrigerated until ready to serve.
In a large bowl, combine the potatoes, Brussels and croutons.
Add onion vinaigrette and toss.
Add parsley, toss again.
Taste and adjust seasoning with salt and pepper.
Garnish with more grated parmesan cheese and serve.
Prep Time: 20 minutes
Cook Time: 10 minutes
Container: baking sheet, medium bowl, skillet, large serving bowl
Servings: 8


Ingredients
-
CROUTONS:
-
1/4 cup butter unsalted
-
2 teaspoons garlic finely chopped
-
2 teaspoons fresh thyme - finely chopped
-
6 cups french of sour dough bread - cubed
-
1 tablespoon Herbs de Provence
-
6 tablespoons fresh parmesan or asiago cheese - grated
-
salt and pepper to taste
-
SALAD:
-
1/2 small red onion - thinly sliced or diced
-
3 tablespoons sherry vinegar
-
1 pinch salt
-
4 cups sweet potatoes peeled and cubed
-
1/2 cup olive oil plus 2 tablespoons
-
1 tablespoon fresh sage - chopped
-
pepper to taste
-
1/2 pound Brussels sprouts trimmed and halved
-
1/2 cup fresh parsley - loose chopped