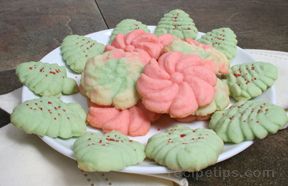 Directions
Beat shortening until smooth, then add the sugar and baking powder. Mix until combined.
Add the egg and almond extract until blended together.
Add flour and salt. You may have to mix this by hand if the dough is too firm for a mixer.
Divide dough into different containers and add food coloring as desired to each.
Mix until all of the color is incorporated.
Place dough into a cookie press with whatever tip is desired.
Press cookies out, spaced evenly, onto an ungreased baking sheet.
Bake in a 375° oven for 8 to 10 minutes.
Bake them until firm on the edges but not browned.
Prep Time: 15 minutes
Cook Time: 10 minutes
Container: cookie sheet, mixer


Ingredients
-
1 cup shortening
-
3/4 cup sugar
-
1/4 teaspoon baking powder
-
1 egg measuring 1/4 cup, add water to the egg in order to reach this measurement
-
1 teaspoon almond extract
-
1/2 teaspoon salt
-
2 1/4 cups flour
-
food coloring as desired