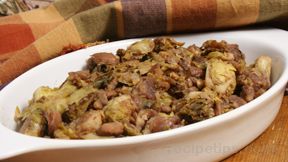 Directions
If using fresh chestnuts, score them with an X on the bottom and roast in a 400° oven until tender for approximately 20-25 minutes. Peel when cool.
Heat butter and oil in a large skillet over medium heat until butter has melted.
Add Brussels sprouts.
Season with salt and pepper.
Cook, stirring frequently until golden brown. (Approximately 15 minutes.)
Add chestnuts, cook, stirring occasionally until the brussels are tender and browned in places. (Approximately 20-25 minutes)
Raise heat to medium high.
Add vinegar, stock and sugar.
Cook, stirring occasionally, until liquid has been reduced to a syrup, 4-5 minutes.
Transfer to a serving dish and serve warm.
Prep Time: 15 minutes
Cook Time: 25 minutes
Container: large skillet
Servings: 8


Ingredients
-
2 tablespoons unsalted butter
-
1 tablespoon olive oil
-
2 pounds Brussels sprouts trimmed and halved
-
salt and pepper to taste
-
3/4 pound shelled chestnuts - fresh, jarred or frozen
-
1/2 cup cider vinegar
-
1/4 cup homemade chicken stock or canned chicken stock
-
1/4 cup sugar