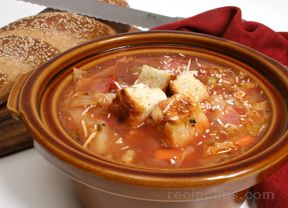 Directions
Heat 2 tablespoons of olive oil in dutch oven or skillet over medium heat.
When hot, add pancetta and bacon, stir frequently until the pancetta is crisp and bacon is cooked. The oil will become golden brown. (Approximately 6-8 minutes)
Add chopped cabbage and 1 tablespoon of olive oil.
Cook cabbage, stirring occasionally, until limp and tender. (Approximately 3 minutes)
Transfer cabbage, pancetta and bacon to a bowl and set aside.
Return pot to heat and add 2 more tablespoons of olive oil.
When hot, add onions, carrots and salt.
Cook, stirring occasionally, until the onions are soft and the vegetables are browned and start to stick to the bottom. (Approximately 8-10 minutes)
Add 1 tablespoon olive oil, garlic, 1 tablespoon fresh rosemary, coriander and thyme.
Cook, stirring until garlic is fragrant, 1-2 minutes.
Add tomatoes, stir and cook 2-3 more minutes.
Return cabbage and bacon back to the pan and add chicken broth.
Stir well, bring to a boil, then reduce to a simmer.
Simmer for 10-15 minutes.
Add beans, bring back to a simmer and cook for 1-2 more minutes.
Remove from heat and stir in remaining teaspoon of rosemary.
Taste soup and add at least one teaspoon of lemon juice to brighten it.
Add salt and pepper to taste.
Serve with homemade croutons and grated parmesean cheese.
Prep Time: 20 minutes
Cook Time: 45 minutes
Container: dutch oven or large, deep skillet
Servings: 6


Ingredients
-
5 tablespoons olive oil
-
8 slices turkey bacon - cut into small pieces - or regular bacon
-
3/4 cup pancetta - cut into small chunks
-
4 cups green cabbage - diced - 1/2 head
-
2 cups onion - diced
-
1 1/2 cups carrots - diced
-
salt and pepper to taste
-
2 tablespoons garlic - minced
-
1 tablespoon plus 1 teaspoon fresh rosemary - minced
-
1 teaspoon coriander
-
1 teaspoon fresh thyme - stripped off of the stem
-
28 ounces (1 can) diced tomatoes - drained
-
6 cups chicken broth - canned or homemade
-
2 (15.5 oz cans) white beans - rinsed and drained
-
1 teaspoon lemon juice
-
1 cup toasted bread cubes or croutons divided evenly - more if desired
-
1/3 cup fresh grated parmesan cheese, divided evenly, for garnish - more if desired