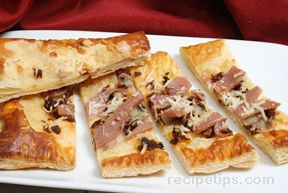 Directions
Preheat oven to 400° and place the rack in the center.
Line the baking sheet with parchment paper or silpat.
In a small bowl, whisk the egg yolks with water and set aside.
Dust the work surface with flour.
Unfold pastry and roll out, eliminating creases, to a 10x14 inch rectangle.
Cut the rectangle in half lengthwise to make (2) 5x14 inch rectangles.
Transfer both sheets to the baking sheet.
With tines of a fork, press 1/4 inch border around the edge of both pastries.
Brush egg mixture around border - you won't use all of the egg wash. This will give the edge a nice brown color when baked.
Bake both puff pastry rectangles until firm and golden. (Approximately 12 minutes)
Remove from oven, leave on the baking sheet.
Increase oven temperature to 475°.
Cool the pastries slightly on the sheet and flatten any large air pockets by lightly pressing them down with the back of a spoon.
Scatter a thin layer of sun dried tomatoes on both pastries.
Sprinkle cheese over the top.
Place prosciutto strips on top of cheese either randomly or arranged evenly.
Sprinkle top with parmesan cheese.
Bake 5 minutes or until cheese has melted.
Allow to cool for a few minutes, then cut into strips or small squares.
Prep Time: 10 minutes
Cook Time: 15 minutes
Container: Baking Sheet


Ingredients
-
1 large egg - separated
-
1 tablespoon water
-
8 ounces (1sheet) frozen puff pastry - thawed
-
flour for rolling out dough
-
1/4 cup oil packed sun dried tomatoes - finely chopped
-
1/2 cup Farmers or Fontina cheese - grated
-
4 slices prosciutto, cut crosswise into thin strips
-
4 tablespoons parmesan cheese - grated