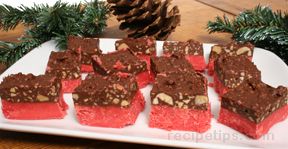 Directions
Combine sugar, butter, salt and milk in a saucepan.
Boil over medium heat for 5 minutes, stirring occasionally.
Stir in marshmallows and cherry chips.
Stir until all is melted and combined.
Line a 9x9 baking dish with tin foil making sure that there is extra coming up on two sides that can act as handles.
Pour the mixture into the prepared pan.
Melt chocolate chips with peanut butter in a small saucepan over low heat, stirring constantly.
Stir in chopped peanuts.
Spread over the cherry layer.
Allow to cool in the refrigerator for 2 hours.
When cool, cut into small squares.
Prep Time: 10 minutes
Cook Time: 10 minutes
Container: saucepan, 9x9 baking dish
Servings: 30


Ingredients
-
1 cup sugar
-
2 tablespoons butter
-
1/4 teaspoon salt
-
1/3 cup evaporated milk
-
1 cup mini marshmallows
-
1 cup cherry chips
-
1 cup chocolate chips
-
1/2 cup peanut butter
-
1 cup peanuts - chopped