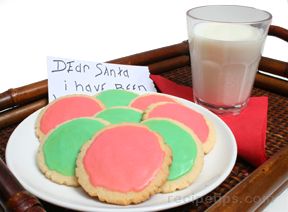 Directions
By hand, not a mixer, cream the butter and gradually add the sugars.
In a separate bowl, beat the eggs.
Add the eggs to the sugar mixture.
In a medium bowl, whisk together the flour, cream of tartar, baking soda and salt.
Add one cup of the flour mixture to the egg and sugar mixture, alternating it with 1/4 cup of the oil, stirring between each addition until all of the flour and oil is incorporated.
Stir in vanilla.
Roll dough in small balls approximately 1 inch in diameter and place on an ungreased cookie sheet.
Flatten each with the bottom of a glass dipped in sugar.
Bake at 350° for approximately eight minutes or until golden brown.
Remove from oven and allow to cool on wire racks.
Can be frosted with your favorite icing or sprinkled with colored sugars for decoration.
Prep Time: 15 minutes
Cook Time: 10 minutes


Ingredients
-
1 cup butter
-
1 cup powdered sugar
-
1 cup sugar
-
2 eggs
-
5 cups flour
-
1 teaspoon cream of tartar
-
1 teaspoon soda
-
1/4 teaspoon salt
-
1 cup salad oil
-
2 teaspoons vanilla extract