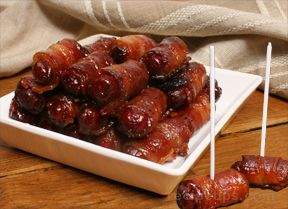 Directions
Cut bacon slices in half.
Wrap one piece of bacon around each smokie and place them seam side down in glass baking dish.
Top with brown sugar and drizzle with vinegar.
Refrigerate for several hours or overnight.
Remove from the refrigerator and bake in a 350° oven for one hour.
Remove from baking dish and transfer to a small slow cooker to keep them warm while serving.
Prep Time: 15 minutes
Cook Time: 1 hour
Container: small slow cooker, baking dish
Servings: 10


Ingredients
-
1 package Little Smokies
-
1 pound bacon
-
3/4 cup brown sugar
-
2 tablespoons vinegar